Shipping Info
SHIPPING INFO
Processing
Once your order is confirmed, we will prepare your items for shipping. Items may take 1-3 business days to process. While we work hard to ensure your order is prepared for shipping as quickly as possible, some items may have longer processing times due to low product availability. In such circumstances, you will be notified by email of the delay.
Shipping
You can enjoy free shipping for orders over $99. Where available, you can opt for Express Shipping for an additional fee. The shipping fee for orders below $99 would depend on the post office standard.
Important Note
When express shipping is chosen, specific address information (including street/block, name, phone number) is required in ENGLISH according to Shipping regulations.
Delivery times vary depending on your shipping destination: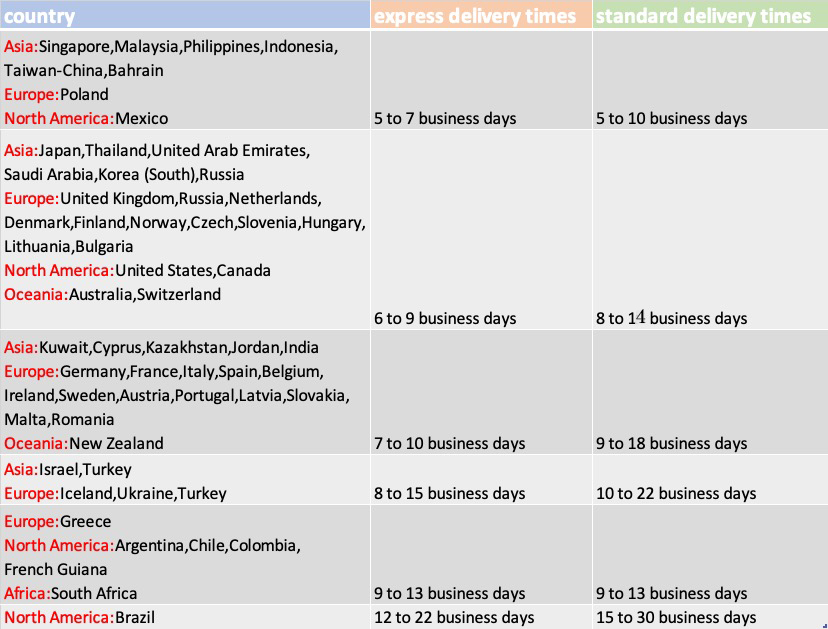 Order Status
Once your order is placed, we will update you on your order status by email.
Order Confirmation
Immediately after your order is placed, an Order Confirmation email with a summary of your order as well as your shipping and billing details will be sent to you.
Shipping Confirmation
Once your order is shipped, you will receive a Shipping Confirmation email, letting you know your items have left our warehouse. Details about the items contained in the shipment as well as a tracking number are included in the email. To track your package, simply click on the link provided. Please note that sometimes it takes the shipping company 24 hours to update the status of the shipment and your tracking link may not work immediately. If your order has multiple items, they may be split into different packages shipped on different days. You will receive a separate Shipping Confirmation for each shipment.
TAXES, DUTIES, TARIFFS
Moongor.com can not be held responsible for any additional charges such as taxes, duties, tariffs, or brokerage fees that may apply to international orders. Normally we would mark the parcel in low value to avoid the duty, but in different countries, the policy is different, hence to find out which if any of these may apply, please contact your local government.